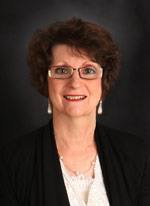 On many chilly winter evenings, you'll find me sitting at a long table covered with china. But I'm not having dinner – I'm creating art.
Since I took my first china-painting class in 1973, it's become both my hobby and a business. I've set up Rosemary's Porcelain Art in a cozy studio in our basement, where I paint everything from plates and teas sets to holiday decorations.
Inspirations for my designs are everywhere I look on the rural acreage my husband, Stan, and I share. God's paintbrush has blessed eastern Nebraska. I'll see an absolutely beautiful snow scene, a chickadee, flower or vivid prairie sunset, and I can't wait to get home and capture it on my porcelain canvas.
I spot motifs for Christmas-themed pieces on vintage greeting cards I inherited from my grandmother, or in holiday books and photos. Santa, stockings, holly and snowmen all end up on trays, vases, candle holders, tree ornaments and more.
My porcelain comes from all over – France, Germany, China, Brazil and the Czech Republic. Made from fine white clay, it's distinguished by its hardness and translucency. I hand-mix the mineral paints I use to produce rich colors and textures. That makes each piece one of a kind.
All Fired Up
To begin, I brush my design freehand onto the porcelain, I then fire it in a 1,500 degree kiln and let it cool. This painting and firing process is repeated several more times to bring out the depth of the colors. Finally, I apply a gold trim to the piece and fire it one last time before painting my signature on the back.
Items are done individually, so I can personalize each with names, wedding dates, Bible verses or phrases like "Baby's First Christmas." I also do commission work, decorating porcelain with a painting of a customer's home, barn or farmstead I create by looking at their photos.
I sell my work at gift shops and art galleries and through my Web site to customers across the country. Often, local people bring guests to my studio. That way, they can personally pick out painted dinnerware, pitchers, bowls and canisters – all functional and food safe – to bring old-fashioned elegance to the table.
Things get pretty busy when holiday gift orders start coming in – but I always set aside time for extra-special projects. Every season, I paint a different Christmas ball for my two sons and daughters-in-law and our five grandchildren.
For a change, I occasionally alternate my delicate artwork with sturdier stuff. I enjoy painting on wood, fabric, tiles, furniture, jewelry and seasonal note cards. Stan says he'd better not sit still for too long, or I'll start painting him!