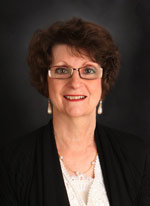 A talented artist, Rosemary Thomas lives in Seward, Nebraska. She is the daughter of the late Nebraska artist E.V. Conner and was raised in a home in which art was emphasized. Rosemary began painting porcelain in 1973 and helped organize the area's first china painting club. Since that time she has devoted her God-given talents to full-time porcelain art.
Rosemary has a studio in her home in Seward in which she works and has taught porcelain painting to beginning and advanced students. She now devotes her time to retail sales and commissions, painting items from jewelry to lamps, glass and porcelain. Rosemary has been married to Stan, a retired car sales person, for 50 plus years and has two sons and daughters-in-law and five grandchildren; one grandson, Caleb, and four granddaughters, Mackenzie, Brianna, and twins Jessa and Jaydn.
Rosemary thanks and praises the Lord for the gifts he has blessed her with and through her painting gives Him all the honor and glory.
Now is the time to invest in a beautiful tea, coffee or chocolate set or maybe a delightful piece for your home's decor, a lamp or a painting. Whatever you choose, you will receive a one-of-a-kind item, hand painted especially for you, which may be personalized with names and dates.
Find Rosemary's Porcelain at the following Retail Locations Year Round:
The Arch—3060 East 1st Street, Kearney, NE 68847
From Nebraska Shop –803 Q Street, Lincoln, NE 68508
Rosemary's Studio at 1683 Eastridge, Seward, NE  68434
If you would like to receive a copy of my brochure, just enter your email address here: